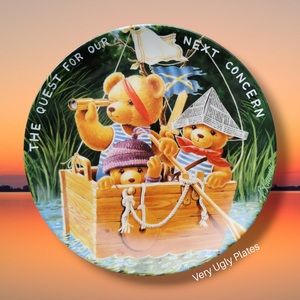 No bla bla description:
It's a wall plate, it's funny and cannot be used for food serving, text is hand painted on old plate, hanger included 
BLA bla bla description:
Introducing our hilarious porcelain wall plates adorned with adorable bears sailing on a boat, embarking on "the quest for our next concern." These quirky and charming creations seamlessly blend art, uniqueness, and humor, making them the perfect addition to your home decoration collection. Forget ordinary wall decor; opt for these extraordinary and unconventional plates that are bound to turn heads and bring a smile to everyone's face. Whether you're a lover of all things funny or simply enjoy the unusual, these funny porcelain wall plates are sure to be the highlight of any room. Embrace the art of laughter and showcase your sense of style with these delightful conversation starters.