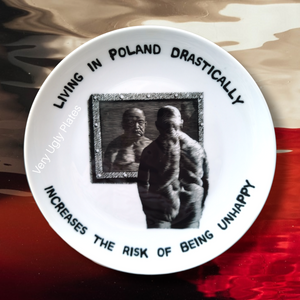 Welcome to the "Unhappily Ever After" Porcelain Wall Plate - your ticket to a comically tragic world! 🇵🇱😢
Are you ready to dive headfirst into the zany depths of existential humor? Look no further! Behold our porcelain wall plate featuring a picture of a sad man, trapped in the grip of life's absurdities, surrounded by the words: "Living in Poland drastically increases the risk of being unhappy." It's a recipe for laughter, confusion, and a touch of Polish melancholy.
Crafted with love and a hint of irony, this wall plate is the perfect addition to your home decor. Hang it proudly in your living room, bedroom, or even your bathroom – because laughter knows no boundaries!
Made from top-quality porcelain, this plate is not only visually striking but also durable enough to withstand the existential crises of everyday life. It's a conversation starter, a muse for deep thoughts, and a reminder that even in the midst of despair, there's always room for a good chuckle.
Please note: No sad men were harmed or permanently demoralized during the creation of this plate. The intention is purely comedic, so embrace the absurdity and embrace your inner happy-sadness.
Warning: Extended exposure to this plate may lead to spontaneous bursts of laughter, introspection, and an inexplicable urge to share witty existential quotes with friends. Keep your sense of humor close and prepare for a whimsical journey!
Get your "Unhappily Ever After" Porcelain Wall Plate today and let the world know that you're ready to laugh in the face of life's ironies – even if it's at your own expense! Remember, a smile a day keeps the melancholy away. Or maybe it doesn't. We're still figuring that out. 😄
It's a wall plate and cannot be used for food serving, hanger included