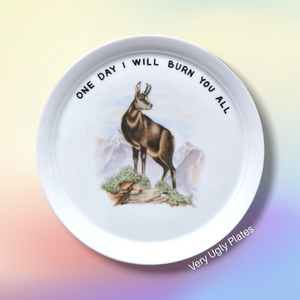 Plate based on real story, it's a wall plate and cannot be used for food serving, hanger included, text hand painted 
Introducing our hilarious Porcelain Wall Plate with a Twist! This unique wall plate features a charming goat design accompanied by a witty phrase that's bound to bring a smile to your face. Crafted with exquisite porcelain, this plate adds a touch of humor and whimsy to any room in your home.
With its eye-catching goat illustration, complete with mischievous eyes and a mischievous grin, this wall plate is sure to spark conversations and laughter among your family and friends. But that's not all – the witty statement, "One day I will burn you all," adds an unexpected twist that turns this piece into an unforgettable conversation starter.
The durable porcelain material ensures that this wall plate will withstand the test of time, maintaining its vibrant colors and delightful design. Hang it in your living room, kitchen, or even your office to infuse a dose of humor and lightheartedness into your surroundings.
Not only is this Porcelain Wall Plate with a Goat a great addition to your own home decor, but it also makes for a unique and amusing gift for your loved ones. Imagine the laughter and joy when they unwrap this unexpected gem!
So, if you're ready to add a touch of humor and playfulness to your living space, our Porcelain Wall Plate with the goat who says, "One day I will burn you all," is the perfect choice. Get ready for laughter-filled conversations and a decorative piece that will keep everyone entertained. Order yours today and let the hilarity begin!